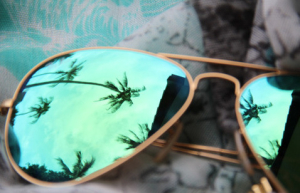 With spring break approaching fast, it's time to dig out your swimsuit and stock up with some new SPF. You should grab some new shades too, because it's almost impossible to enjoy all of the great things about spring break – sunshine, sandy beaches, big waves – if you're lying on your towel with the sun beaming in your eyes.
Choosing the perfect frames and the right lenses is crucial to finding the sunglasses that are going to make your beach-bound outfit. No matter your style – sporty, glam, sexy, whatever – this spring is bringing one trend that is sure to catch everyone's eye. Mirrored lenses are adding a pop of color and edginess to sunglasses, and we love how they are being embraced! From Dita to Costa Del Mar to Ray-Ban and more, the perfect color lens + frame style is waiting for you. And may we just say that the lilac aviators are at the top of our must-have spring break packing list!
Stop by and see us to check out the array of bright colored mirror lenses that are sweeping the beaches. Your eyes will thank you for protecting them and your wardrobe will thank you for springing it to life!