Round, oversize, cat-eye, angular, sporty – if you've ever been to our boutique, you know we have tons of styles of glasses to choose from. But, how did we get here? Our selection reflects years of design trends, cutting-edge fashion statements and technical advancements. Read on to learn how glasses have evolved through history and see our favorite styles trending now!
Pre-1900s: Invention & Major Advancements
The first eyeglasses were invented between 1268 and 1289 in Italy, and were initially worn exclusively by scholars and monks. These first basic glasses didn't even have sidepieces—they were simply held in front of the face or balanced on the bridge of the nose. As literacy rates grew in the late 1400s with the invention of the printing press, the popularity of eyeglasses also grew.
In the 1700s, sidepieces that rested over the ears were added, and in 1784, Benjamin Franklin invented bifocals. While function advanced, fashion didn't always agree. In the 1800s, lorgnettes (more commonly known as opera glasses), were one of the most popular styles of glasses. Even though sidepieces had been invented, handheld styles like lorgnettes were more fashionable, as wearing eyeglasses was considered a sign of old age.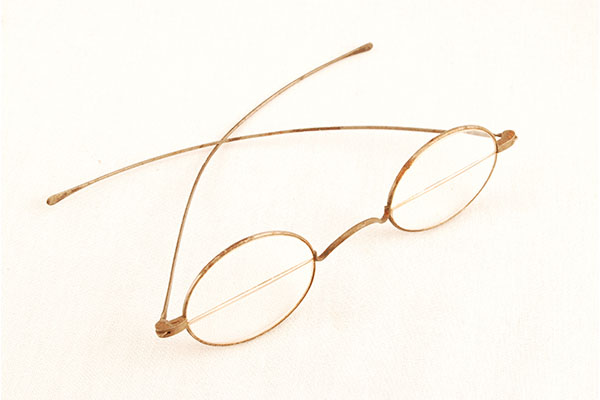 Early bifocals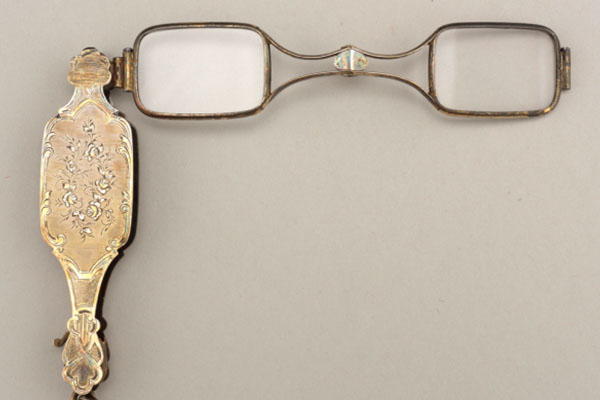 Lorgnette opera glasses
Early 1900s: Rounding Out & Looking Up
The 1900s marked the beginning of the modern eyeglass industry, with mass production and distribution ramping up and distinct frame styles beginning to emerge. The vestiges of older styles, like the pince-nez pictured below, hung onto some popularity in the early 1900s, but this style quickly began to be seen as outdated and old-fashioned.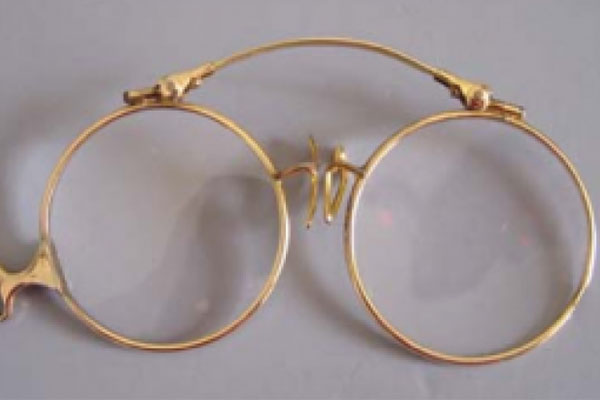 Pince-nez glasses
Round lenses were all the rage in the 1920s, and the quality of eyeglasses improved as many frames started to feature gold plating or tortoise shell instead of the traditional basic wire.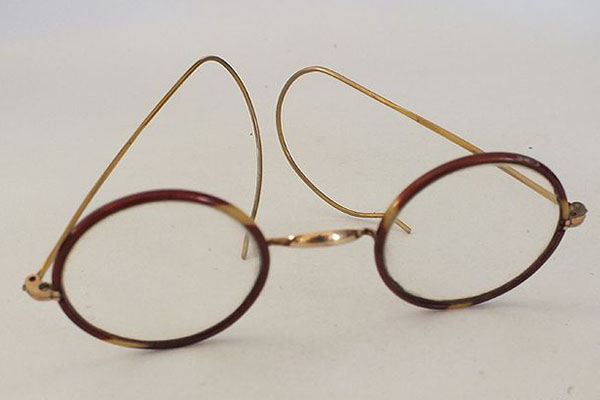 Tortoise shell frames
The 1930s also saw the invention of the first Ray Ban Aviator sunglasses after WWII Air Force and Navy pilots complained of glare while flying.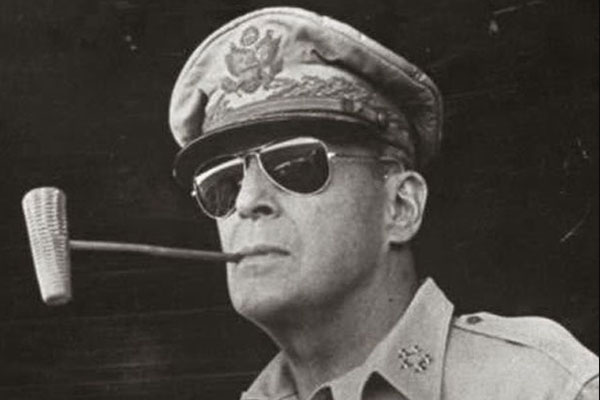 Early aviator sunglasses
1940s & 50s: What the Cool Cats Were Wearing
Glasses truly became a fashion statement in the 40s and 50s, as a variety of styles and colors started to become available. But browline and cat-eye styles really took center stage during this time. According to DailyWorth, browline styles (pictured below) made up 50 percent of all eyeglass sales into the 1950s.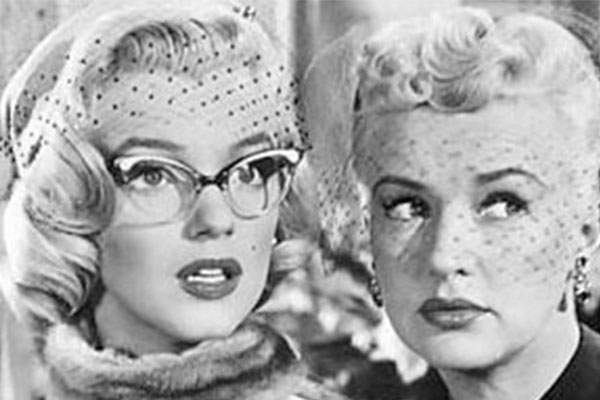 Browline glasses
1960s & 70s: The Era of Jackie O
Inspired by Hollywood stars and American royalty like Jackie Kennedy Onassis, the 60s and 70s were marked by oversized frames and mod styles. While Jackie O favored large, black frames, edgier mod styles featured geometric shapes and bright colors.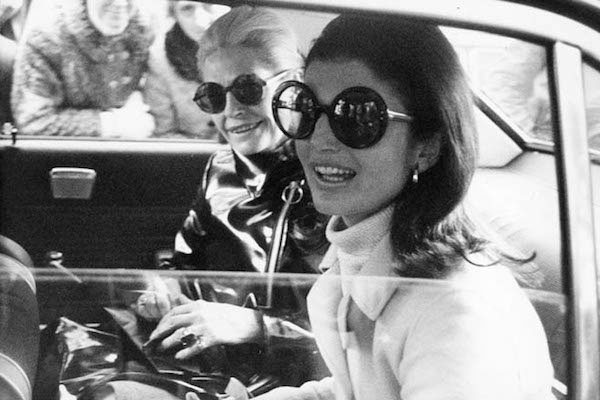 Jackie Kennedy Onassis wearing oversized frames
Mod-style frame
1980s, 90s & Today: From Vintage to Cutting Edge & Everything in Between 
Wraparound styles became especially popular in the 80s, while the 90s brought simpler, sleeker shades as higher-quality, plastic lenses became more readily available.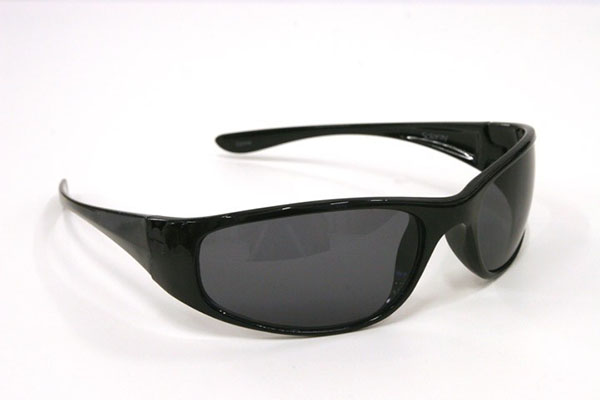 Wraparound sunglasses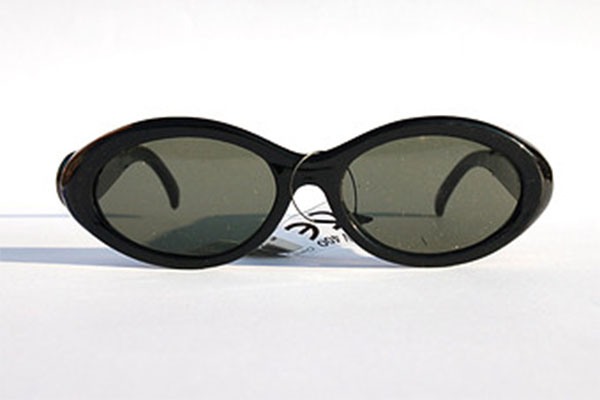 90s-style sunglasses
Since then, glasses have only continued to improve in quality and gain in popularity, pairing function with fashion. They've become so much an expression of individuality that it's difficult to pinpoint a current most popular style. Whether your vibe is vintage, classic, basic or edgy, your frames can reflect your personality and enhance your overall look.
While we're a little low on our stock of opera glasses and browlines at the moment, we have tons of fabulous frames for you to choose from.
Come into JJ Eyes to see what's trending now!